Four Christmases Movie Reviews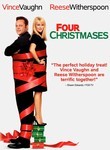 Release Date: Nov 26, 2008
Genre: Comedy
Rating: (PG-13)
User reviews on Four Christmases
This movie BLOWS! It's a total waste of time; predictable and pretty boring. Reese is always nice to look at but nothing in this flick makes that even worth while. Thank goodness it was short. Hollywood should be paying YOU (and everyone else) who sat through this, not the other way around.

This movie was laugh out load funny! Great, big name actors (Sissy Spacek, Tim McGraw, among others) and a cute story...would recommend this movie if you want a laugh...it was one of the few movies available that had comical undertones. Too many serious movies in the theater this particular weekend, but still worth the movie tickets.

Absolute waste of time and money. Utterly stupid movie. Disappointing as previews looked like a fun movie to see. NOT.
Characters are not believable, situations are not believable. Hard to find 45 required words to describe this movie, other than don't waste time or money to see it.

If you're in the mood for this movie, it's fine. My husband and I really found ourselves laughing outloud alot. There was a boring spell for about 15 minutes, but otherwise there were some very funny moments. The parent characters certainly added interest to the movie, but the main characters held their own. The only thing that really annoyed me was during the last twenty minutes or so, you could tell where the retakes were because Reese's hair would chage from one shot to the next in the same scene. That was insulting to think we wouldn't notice.

This sometimes grueling ripoff of Meet the Parents takes the holiday comedy to new depths of lowest-common-denominator raunch. Someone remind me when old people saying filthy stuff became funny? Oh right, never. Unfortunately that's the level Four Christmases is operating on most of the time.
I can't remember the last time a movie featured so many contrived, stupid characters set up for cheap laughs. And the cast they got to play them—Sissy Spacek, Robert Duvall, Jon Voight, what are you doing in this movie?
Of course, that's part of the Meet the Parents formula as well: get famous older actors to play the wacky parents of a frat-pack generation couple, in this case, Vince Vaughn and Reese Witherspoon. Meet the Parents had one crazy family, its sequel Meet the Fokkers had two, so the thinking here was to multiply that with four freakshows. The problem is that we should care about these people, at least some of them, and the filmmakers here give us no reason to.
It's not that every joke in the movie misses, but there's too much cliché humor and the relentless rude material seems like a crutch for weak writing. Hard to believe anyone in the all-star cast looked at this script and thought "Oh yeah, Christmas classic, here I come!" More likely they looked at and thought "Ka-ching!" And considering that even the worst holiday comedies usually make money hand over fist, I'm sure we can expect the sequel Eight Christmases by Christmas 2010.

This was a disappointing movie. I am sorry I spent the money to go. Took my son and his friend and was embarrassed by some of the unnecessary vulgarity and stupidity that was suppose to be conveyed as humor. I found the church scene sacriligious and very distasteful. I would not recommend it to anyone.

Four Christmases sees a happy unwed couple Brad and Kate (Vince Vaughn and Reese Witherspoon respectively) miss their flight to an exotic local to avoid spending the holidays with their families. Before they can get out of the airport a news team interviews them and their families, who were watching the news, know that the couple tried to escape. Since both of them have divorced parents they plan to visit all four relatives in one day (which seems impossible if you've ever tried to do that with just two families and know what type of headache that can bring).
Brad and Kate go to each of the families where we see them get into a lot of embarrassing situations, some laughable some a little too stupid. The rest of the cast is funny but there is nothing spectacular in this movie and it will be forgotten about before the actual holiday.
If you like movies where people embarrass themselves but that has a happy good point about loving family and excepting people for who they are then this comedy is the one for you. It's a chick flick hiding as a Vince Vaughn movie, of course the casting of Reese Witherspoon in the title role should have been a dead give away. Also the pairing of Vaughn and Witherspoon seams a bit on the odd/not well thought out side. She is super tiny and he is a pretty big guy so she kind of looks like one of Santa's elves in this movie.
Write a review for Four Christmases