Fantastic Four: Rise of the Silver Surfer Movie Reviews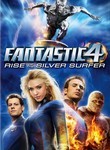 User reviews on Fantastic Four: Rise of the Silver Surfer
I saw it a couple of months ago...I hardly even remember anything interesting to say about it. If you have a kid, than go see it together.The kid might enjoy it. I want to spend 2 hours of my life with something worth seeing, like a good comedy (they say laughter is healthy)...Next time I won't bother seeing a movie that from the title seems frivolous (I said that before, but they don't spend the big bucks on advertising for nothing...they get me everytime)...ho pe to be stronger next time and resist them...bye

Not the best movie in the world, but I have seen worse. I think it just came out at a bad time. People are sick of comic book movies. Spiderman, Superman, The Hulk, X-Men... The list goes on and on. We all just need a break from all these movies that we read as a kid and what our parents read as a kid (depending on how old you are). If this would have come out 2 years ago or waited a couple years, it would have been a huge success. Good enough for the child inside me and should be good enough for the child inside all of you.

I thought it was a "fantastic" movie. The special effects were great and it had a few surprises to add to it! I'd buy it when it comes out!

A real 360 action film. The creators of this movie have given this MARVEL script reality. If I do not see it at the theater again I'm definitely getting the DVD. This is an excellent movie from start to finish! Stan Lee's cameo was a pleasant surprise.. YOU WILL NOT BE DISAPPOINTED!

I felt that this movie was true to the comic book. It was entertaining and the special effects were excellent. I felt that the comedy was well placed in the script.

Hey, sure they are cornball superheroes . . just enjoy the effects. And besides they fixed Galactus, the anomoly is 'way' easier to believe than the comic version, AKA: a hungry planet sized humanoid.//BB

No plot, bad acting, and Jessica Alba: a triple threat. I was bored to tears until some of the special effects kicked in. This would be my last choice to go see of all the things out right now.

Well,
If you have ever read a comic book in your life and know anything about the fantastic four do not go see this movie. It's funny how some comic book movies they can do well and others it seems like they are just trying to make a buck.

Decent movie if u arent expecting anything out of it. A lil bit of humor and some exciting special efects make up for the fact that there isnt any storyline. Definitely not a must watch.

Although the acting and special effects were sufficient enough, this story line seemed to be targeted at an 8 year old child. Cheesy dialouge and a sappy ending just ruined this flick. Wait for it to come out on DVD & rent it some night when you're especially bored. The Silver Surfer did look pretty cool though... that's the reason I gave it 2 stars instead of 1.
Write a review for Fantastic Four: Rise of the Silver Surfer