Duplicity Movie Reviews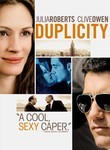 User reviews on Duplicity
I am disappointed that there is not a zero stars rating on this website. I've never written a movie review but I felt so strongly about this movie that I went to all the trouble to create an account JUST to review this movie. It was a painful waste of time. The plot was boring, mindless drivel hidden beneath a mask of feigned intelligence. The characters were flat and uninteresting. Perhaps my disappointment with this movie stems partly from the fact that I had high expectations, given the cast. Or perhaps it is unfair to be so disgusted with a movie that I spent half of my time sleeping through. Either way, don't waste your time.

Yes, you do have to pay attention and at the beginning its a little confusing, but this is one of the best movies i have seen in a while. sorry that its boring for people that dont like to think a little and want the whole thing black and white.. clear as day, when the movie gets to the end it all makes since and its a great story. with great actors. highly recommended.

I saw this movie Easter Ssunday-As far as I am concerned, forget it a waste of money--I am surprised that Julia Roberts even accepted the part, very confusing from beginning to end--always lost in the plot We just kept looking at one another and saying " very confusing" jumping from 5 years begort-18 mpnths before and one and on.

Only a hero could sit through Duplicity in it\'s entirety. True to it\'s name, Duplicity projected the aura of a great plot with stellar actors and came through with something entirely different. When Clive Owen and Julia Roberts can\'t captivate the audience, alarms should go off.\n Duplicity had several enticing minutes somewhere along the line, however they were lost in the rest of the movie which I spent trying to stay awake.\n All aspects of this film are excellent barring the plot and pace. It seemed like a 30 minute episode stretched to 2 hours.\n Wait for it to come out on cable and watch it when you are having trouble sleeping some night.

Intelligent and well acted by a great ensemble. The leads are excellent, but Paul Giamatti is hysterical! It's refreshing to have a screenplay that is clever, allows you to think a little, and is sly but really funny. It's also stylish and beautifully shot. Even the score is terrific. The movie gives you all the grace of those great romantic thrillers of the golden age. Are we so jaded that only gunshots and breasts can catch our fancy? This is a real movie lover's movie. Highly recommmended.

The plot is confusing, silly and pretentious. There's absolutely no chemistry between Julia and Clive. The humor is forced. Both stars seem to be going through the motions, and the could have mailed in their performances. The end result was a resounding dud. What a waste of talent and my ticket money.

We went Friday night to watch Duplicity with my wife hoping to spend a good moment and have some fun. After the experience I've decided to write my first review.
We do not recommend this movie at all.
Decent acting but we found it boring; no action, suspense, humor, lessons, messages ... nothing but an empty movie.
Spend your time and money watching some other movie.

Only moderately interesting. Confusing sequencing of scenes makes me think they shot it differently and tried to salvage what they had by moving scenes around and having to announce to you every 5 minutes where and when. Julia Roberts and Clive Owen do the best they can with the material, but both are wasted in this trying-too-hard-to-be-clever tripe. I was expecting much more from the hype generated around this film.

This movie is great! The plot is interesting, but it is the chemistry between Julia Roberts and Clive Owen that makes this movie shine. Julia and Clive play former secret agents who now work for rival multi-national corporations that are duking it out over dandruff shampoo and various lotions. Paul Giamatti and Tom Wilkinson play opposing CEO's and anyone that has ever worked in an office cubicle environment will enjoy the characters in this movie. CIAO!
Write a review for Duplicity