Coraline 3D Movie Reviews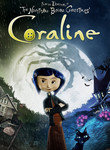 Release Date: Feb 06, 2009
Rating: (PG)
User reviews on Coraline 3D
I really hate how my favorite movie is not even playing anywhere near 60 miles from where i live. Now i have to wait even longer to see my favorite movie. I am only upset because i was really looking foward to seeing this. If anyone else has seen it I would like to know how it is, if its similar to the book and if its worth being disappointed over. thank you.

One must appreciate all of the work and dedication the animators put into this film, however the actual story gets left out in the cold. Coraline starts off slowly and is rushed at the end. The 3D is not necessary, all it does is make the film gloomier and darker than it already is. Who was the target audience? Goth kids?

Remember it\'s PG! My adventurous daughter is almost 3 and her 7-year-old brother wanted to see it. I figured, it\'s made for kids and they both saw \"Nightmare Before Christmas\" unfazed. The 3-D animation was far better than ANY movie I have ever seen, and that\'s a lot! The story line was fabulous... unfortunately, due to my poor decision making, I had a frightened toddler and didn\'t see the end. My son did and so did my adult friend, both stating it was better than the first part, and I only missed the last 15 minutes... Right, when it started getting really good! The idea behind the story was quite gruesome, so if you have children you aren\'t sure about watching it, even after you\'ve seen it, take them to the matinee version. The lesson it teaches behind it is just. We\'ll purchase it and watch it when my daughter is asleep... of course, we\'ll need to wait a few years for that! Worth the 5 years of composition and I project a lot of awards for this film... without question!
Write a review for Coraline 3D