Chronicles of Narnia: Prince Caspian Movie Reviews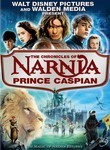 User reviews on Chronicles of Narnia: Prince Caspian
It was a great story but it lacked the majesty of the first. The tone of the story was dark and it seemed to barely cling to the hopefulness and nobility that permeated the first movie. The lessons regarding pride and lack of faith were much more transparent also. Despite all that, I was entertained and interested all the time and was drawn into the fantasy as I should have been.

three stars
this is mainly because I believe this is a nice family movie for an epic tale.
It does not break the mould however.
The acting is not the best I have seen and the rhythm is off. A little boring, a little longish.
A bit disappointing. But visually very satisfying if you like those kind of effects

this movie was really good but for some reason i wasnt as in to it as i thought i would be.it didnt seem to blow me away as the first one did. the movie was really good and the acting was amazing. i like how the young actors can act like siblings even though they arent in real life. it just amazies me.

Ironic twists and turns, with the same intensity and artistic integrity, Prince Caspian delivers more than the first movie. While the characters and scenery are familiar, the movie still keeps you guessing. Bravo. Didn't expect to be so enraptured by this one!
Write a review for Chronicles of Narnia: Prince Caspian