Bank Job Movie Reviews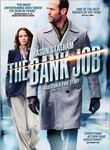 User reviews on Bank Job
Roger Donaldson's Bank Job was a really well done heist movie. The fact that it was based on true events always makes things a bit more interesting as well. It isn't Ocean's 11 with a complicated plan to get into the vault it's more about brute force than witty banter, although there is a bit of that as well. I also like the fact that it is more involved than a simple bank job, it goes from a brothel to the upper echelons of British government. Although you have to pay attention right from the get go or it can be a bit confusing. It also goes a bit deeper than your usual fun bank heist movie, and some of the violence was a bit unexpected.
I liked that fact that the characters were human, they had faults but yet still likable. Although Jason Statham seems to be making his name as an action star I think he is a good actor as well and movies like this really show it off. The rest of the cast was fun to watch and believable. Saffron Burrows plays a wonderful femme fatal who is also easy to sympathize with. It also helped that they all had British accents, for me at least, that makes everything a lot more watchable.
Over all, this movie is great if you like a bit of intrigue with a bit of action and a good story line. This is definitely a movie that I will be watching again.

This was a good story with twists and action. Though, this story has been done over and over (Bank Robbery), they were still able to put a new hook on it. Also, it was based on a true story. If you like mystery and suspense with some action... Check this out!
Write a review for Bank Job