30 Days of Night Movie Reviews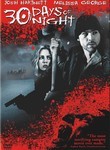 User reviews on 30 Days of Night
I jumped a couple of times but yeah dont really like it, it's boring!
I reccomend that if u havn't seen it dont go and see it.

Decent horror flick. Not on my top list but worth the few bucks if your bored to go see. If your interested, dont wait for it to come out on dvd because it will suck on a small screen. Some good gore, I liked the photography in the killing clips, something thats new and inovative with the overhead shots of the town being rampaged.

An un-frightening horror film about a vampire clan that invades an isolated Alaskan town during 30 days of darkness. The vampires are ugly, animal-like, and scary that's the good part. However, this film becomes boring as we watch the sheriff (Josh Hartnett), and a few surviving locals seek shelter, kill a few vampires and then run back for cover, over and over again. Uninteresting characters prevented this viewer from caring about their fates. In fact, as the surviving group grows smaller we barely notice who's missing and who's still there.
Write a review for 30 Days of Night